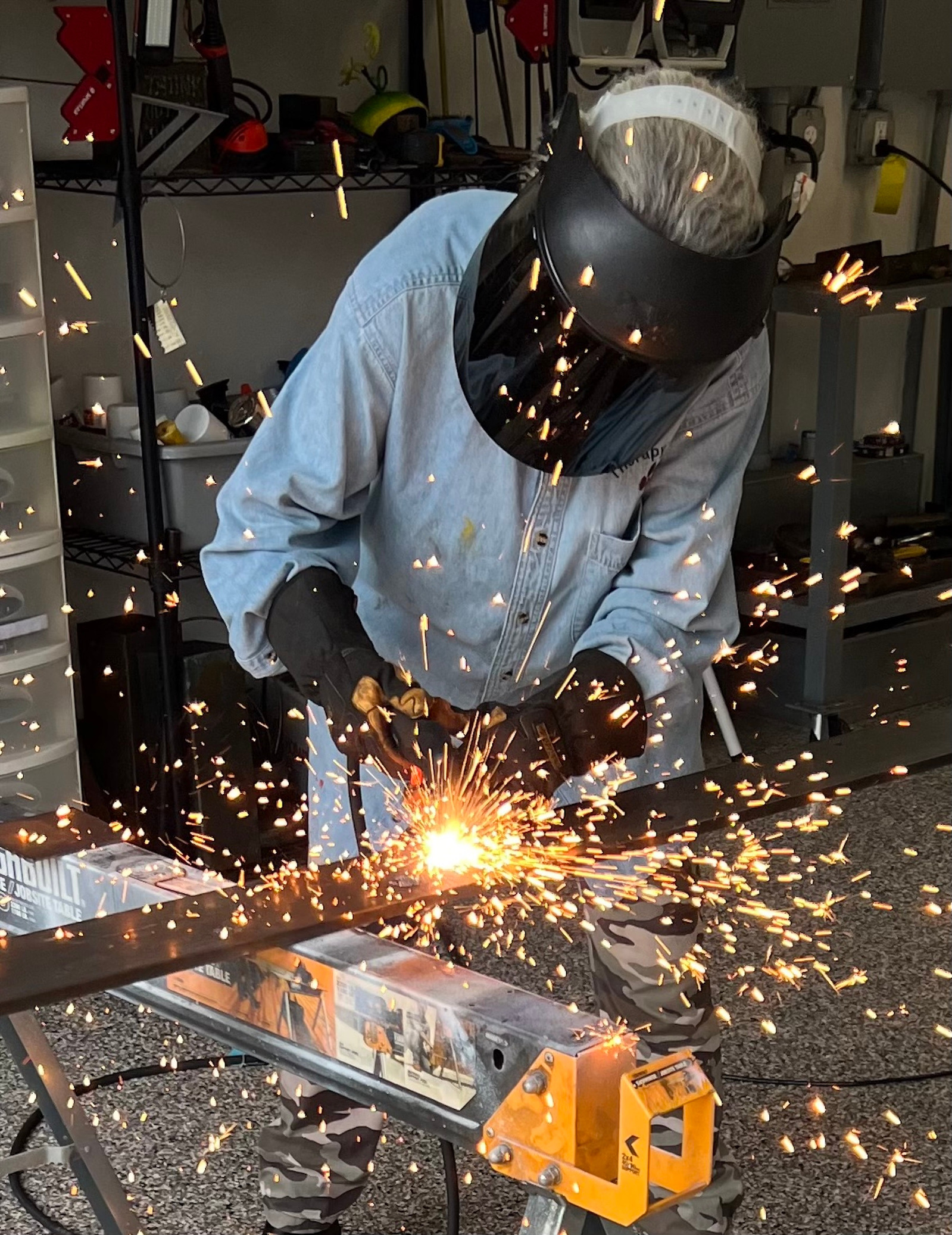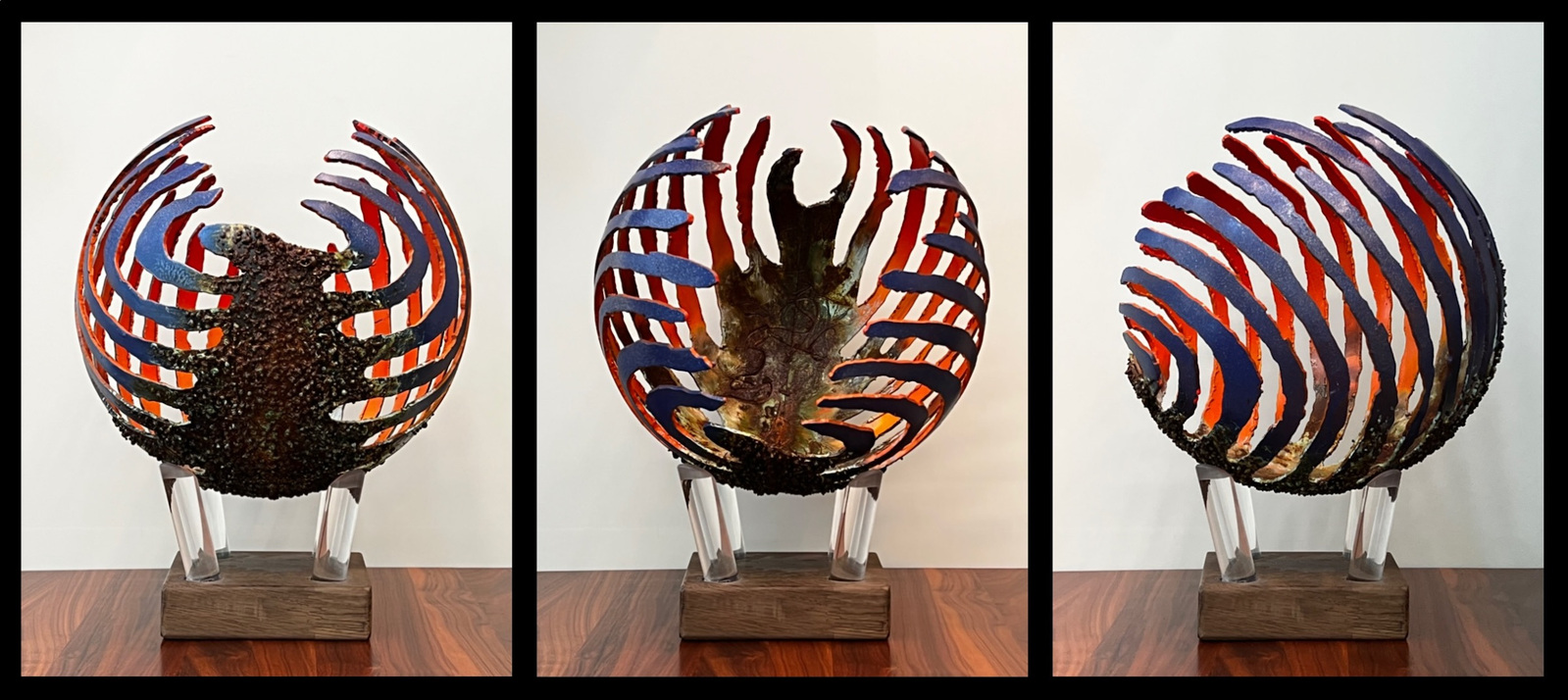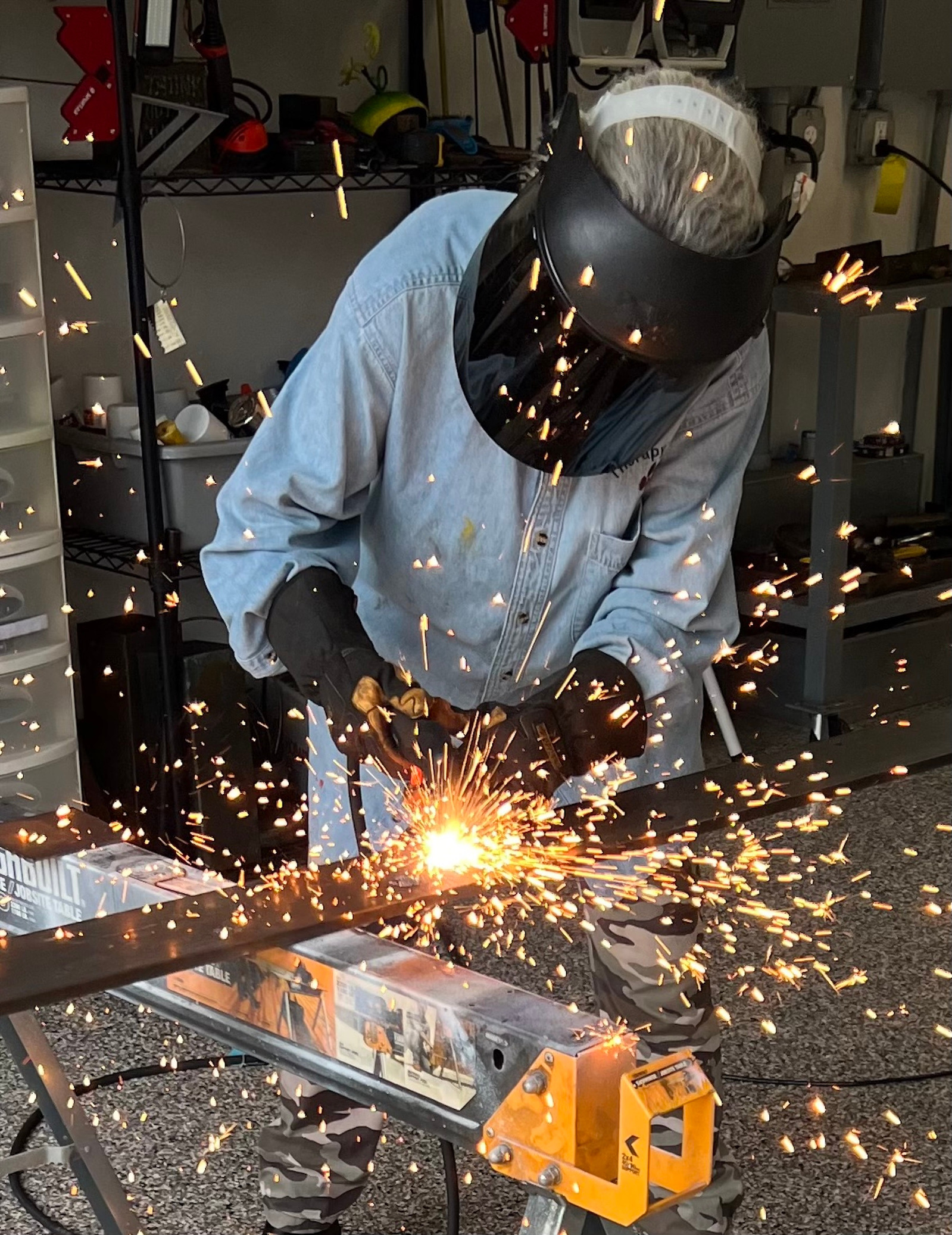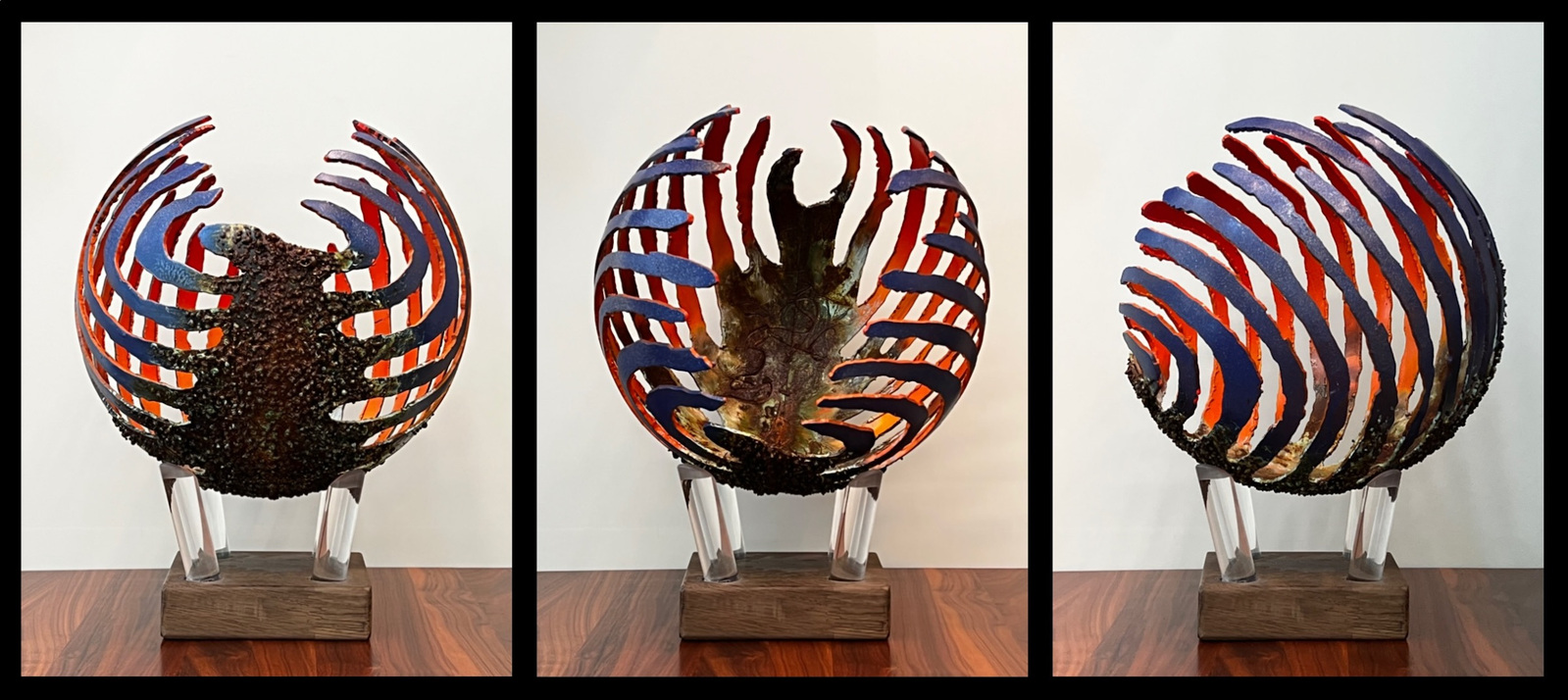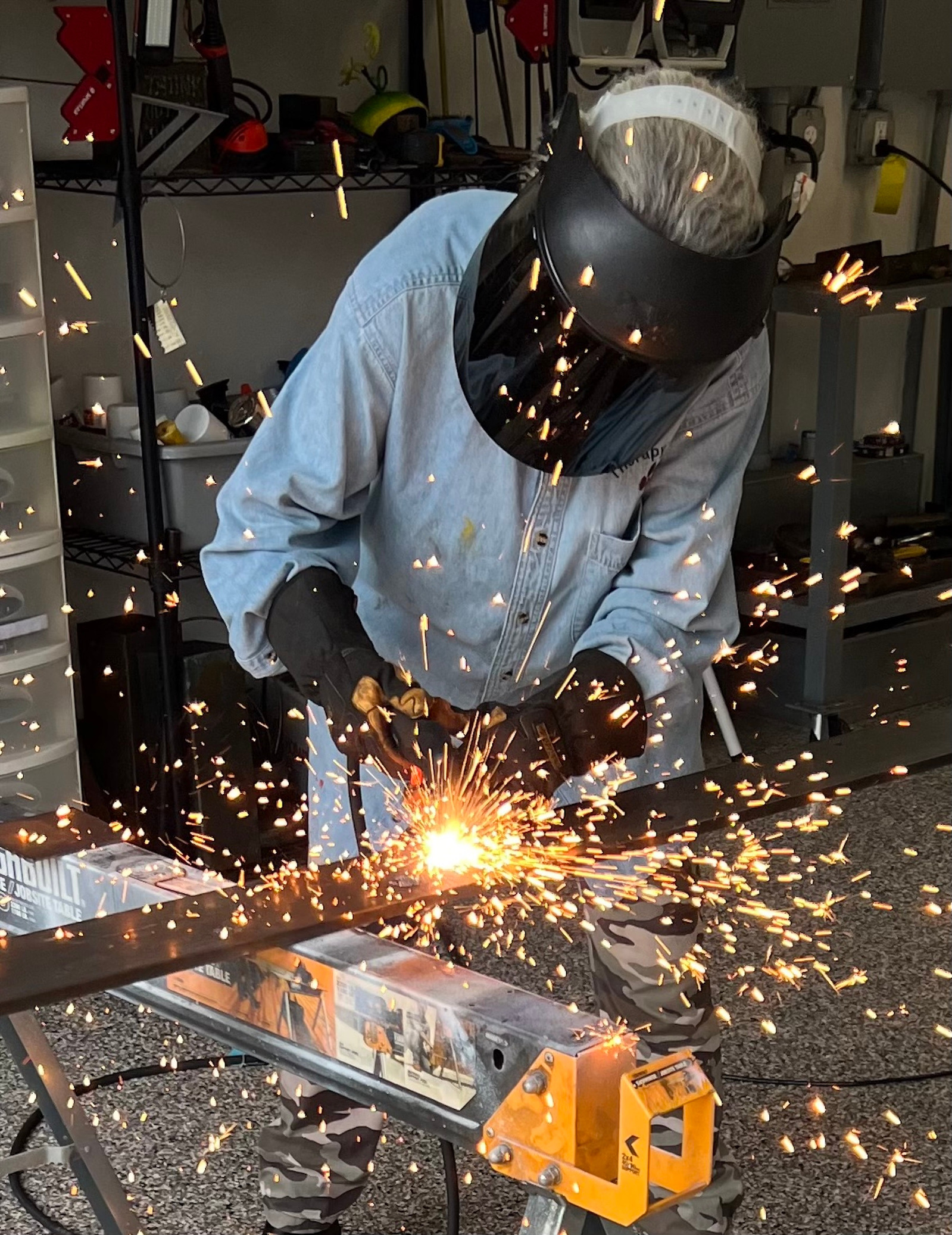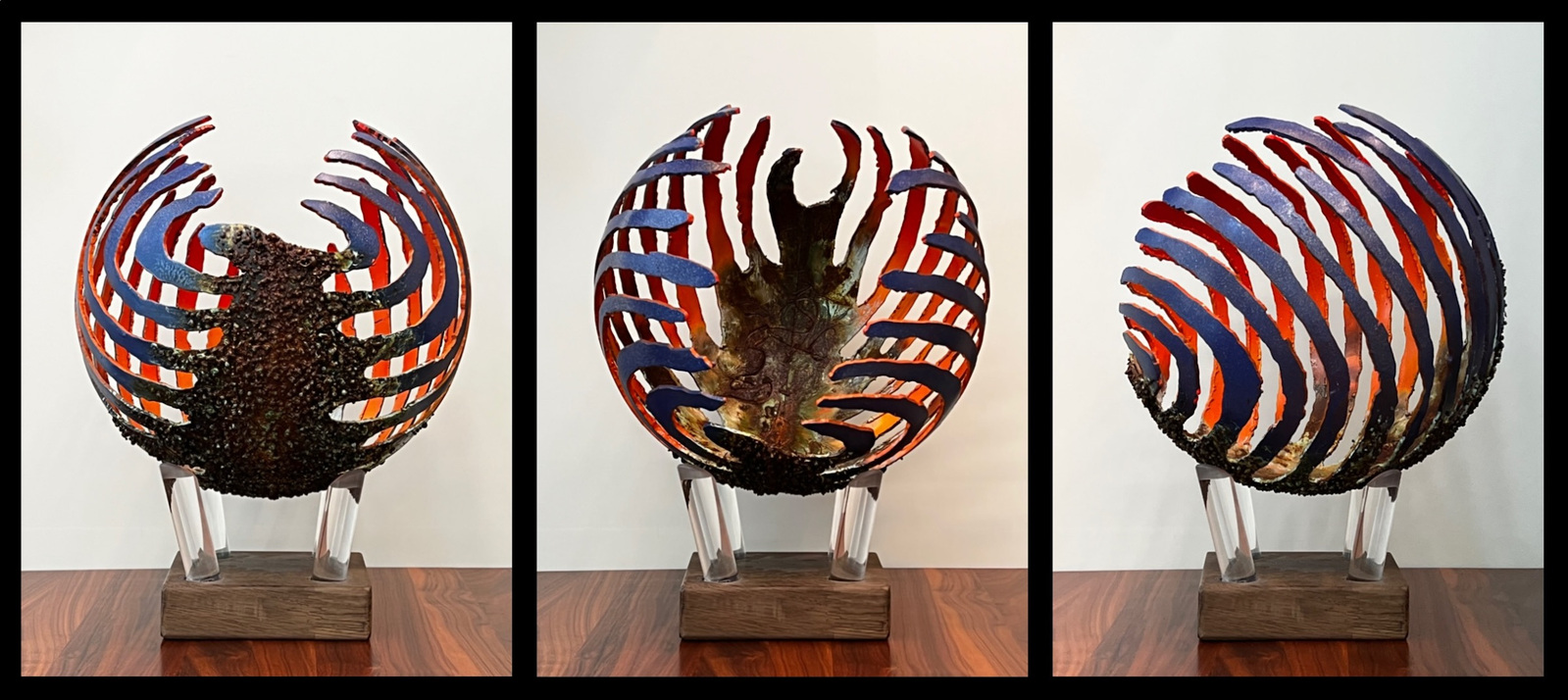 "Vision is the art of seeing what is invisible to others."
— Jonathan Swift
Bio
My art is all about transition. Life has changed in so many ways these past years, my work is evolving with me. Making connections is what drives me. The medium I choose to illustrate ideas changes based on how/what I want to communicate. The excitement of working in different media enhances the process.
Steel, for me, is a language. A song. A breath. We've been together for almost 30 years, we know each other well.
My pleasure is taking a very man-made substance and creating organic, sometimes otherworldly, objects that encourage people to see differently. (Besides creating furniture & custom interior pieces)
The Cube series grew from my need for clear boundaries after a tragic life event. By establishing limits, I was able to push against them and begin to grow again. Evolution continues.
The Cubes brought me to resin casting. Translucent squares held 2" off a white background lets me play with light, illustrating the passage of time as colored shadows move across the background inspiring new visions.
My painted figure work strives to illustrate a state of being. The silver lines represent the energy that flows through and connects us all.
As an artist who works primarily in three dimensions, I am always looking for ways to make art more tangible - yes, please touch!
I am open to commissions, collaboration and connecting! Reach out!
Expertise
I believe in stepping out of our boundaries to gain perspective on our lives.
My ideas dictate the media used to achieve these goals. Creating with steel, bronze, copper, brass, stone, wood and various found objects. These elements, combined with paint, canvas and life, enable me to evoke deep emotional responses within viewers.
In addition to traditional art making techniques, I also work in the digital arena, creating art that starts on the computer and is realized using cutting edge technology.
Always experimenting with new techniques, I am equally comfortable with analog and digital technologies, and use both according to the needs of the project.
Working Together
Let Pamela Olin ignite your creativity!
Have an upcoming project? Collaboration can make it happen faster!
Here's a list of Services:
- Commissioned Fine Art
- Creative Consulting (have an idea but not sure how to realize it?)
- Creative Experiences in your space or mine (think "Girls Night In", Team Building and Parties!)
- Home studio set up
- Install Art & professional hanging systems (change your art without making holes!)
- Corporate Art (Fine or Logo)
Get in touch with Pamela using the contact form to discuss rates, scheduling and more.
Professional Experience

Continuing Studies: Explore the Creative process, Ringling College 2019 - 2020
Explore the creative process through exercises and discussion. Learn about life, the universe and yourself by taking a personal, hands-on approach and diving in to find inspiration in unexpected places. This class will give you a glimpse into some of the ways creative thinkers "stir the pot" to find solutions and inspiration. Be prepared to be open and aware at all times!
Continuing Studies: Steel Sculpture instructor, Ringling College 2016 - 2018
Bringing my curriculum "Zen and the Art of Welding" to Ringling College. I use the language of Zen to teach the principles of welding and fabrication resulting in a whole new approach to welding that makes it more relatable for people new to the medium.
Trainer at Apple, Inc 2011 - 2022
Educating customers on consumer and professional applications based on their goals. Facilitate development by helping customers learn in a hands-on way. Maintain expert level status in all Apple's consumer applications. Deliver presentations and workshops, created Community Outreach program for the UTC Apple Store, including giving low vision workshops to Southeastern Guide Dog students every month.
Founder, Arlington Artist Network 2008 - 2014
Founded the Arlington Artist Network to give local artists a venue to share resources and connect with the community. This group is still active under new leadership.
Harper College, Instructor 2008 – 2010
Created and taught a curriculum for "Intro to Welding for Women – Zen and the Art of Welding" through Harper College's Continuing Education Department, resulting in a new revenue stream from 300 new & returning students. Class continues to be offered.
Pamela Olin Designs, owner 1984 – present
Fine Art commission and custom design for residential and commercial interiors, marketing collateral, trade show booth enhancements, "Fresh Eyes" project consulting.
Professional and Community Memberships
National League of American Pen Women Women Contemporary Artists (Board member) Fine Art Society of Sarasota (Board member) Art Center Sarasota Center for Great Apes, member and volunteer
SMARTriders Equine Therapy, volunteer
Community Outreach Director, Apple Store, University Town Center Volunteer at Center for Building Hope
Volunteer at Habitat for Humanity
Volunteer at Boys & Girls Club Sarasota
Rainbows International Support Organization for Children (Women's Board) Leukemia Research Foundation
Women's Caucus for Art
Chicago Artist Coalition
Society for the Arts in Healthcare
Woman Made Gallery, Chicago
National Association of Photoshop Professionals
Pets With Disabilities
Buddy Foundation, Arlington Heights, IL
Therapy Dogs International: working with our dog, Lotto
Public Sculpture
"Penny" Superheroes on Parade fundraising for Southeastern Guide Dogs
"Mallee" Superheroes on Parade fundraising for Southeastern Guide Dogs, for the Mall at University Town Center, Sarasota, FL
"Sea Dog" Superheroes on Parade fundraising for Southeastern Guide Dogs
"The Path to Freedom" 60"x42" laser cut aluminum, Southeastern Guide Dogs Palmetto Campus Student Center
"Independence (aka Disco)" Superheroes on Parade fundraising for Southeastern Guide Dogs
"Rooted In The Community" 12' steel tree created with the help of students at Vernon Hills HS, Vernon Hills , Il
"Portal" 11' tall steel archway, currently entrance to outdoor chapel, OSRUI Camp, Oconomowoc, WI
"Under The Sea" sculpture, commissioned by Disney, Florida Children's' Hospital, Orlando, FL
"African Savannah" sculpture, commissioned by Disney, Florida Children's' Hospital,Orlando, FL
"People Panels" Central DuPage Hospital, Pediatric Observation, Winfield, IL
"Fulfill" sculpture, downtown Arlington Heights, IL
"Going Forth" sculpture, Congregation Etz Chaim, Lombard, IL
"People Helping People" United Way purchase, Naperville, IL
"Guardians Of Peace" 5 fifteen foot figures, stainless steel , Highland Park High, Highland Park, IL
Gallery Shows
Mara Studio Gallery, Sarasota, FL 2022, 2023 Grace Howl Contemporary Art Gallery, Sarasota, FL, 2018-2019
Artists On Main Gallery, Sarasota, FL, 2017 - 2018
Art Center Sarasota, FL 2016, 2017, 2018, 2019, 2020, 2021, 2022
Art Uptown (awarded 2nd place in Dog Days of Summer annual show), Sarasota, FL. 2015 - 18, 2023
HuB Campus, Sarasota, FL 2015
Journey Gallery, Canton, OH 2013-14
Metropolis Theater Gallery, Arlington Heights, IL 2013
AllState Thomson Corporate Gallery, Arlington Heights, IL 2013
Vernon Hills High School, Vernon Hills, Il 2011
Stevenson High School Rotunda Gallery, Lincolnshire, Il 2011
Woman Made Gallery, Chicago, IL 2009, 2010, 2011
CWCA show at St. Paul Cultural Center, Chicago, IL 2009
Highland Park High School gallery, IL 2009
Pieces Gallery, Highland Park, IL 2008 - 2009
Kraft Fine Arts Gallery, Chicago, IL 1998-2003
KL Fine Arts Gallery, Chicago, IL 1990-1995